Kitcat's Favourite Things
Movies: My taste is rather eclectic. I have loved everything from Easy Rider and The Rocky Horror Picture Show, to The Excorsist and ET. I love mysteries, horror, and Sci-fi. But I love children's and adult fantasy such as the Ring Trilogy, the Harry Potter series of movies and The Labyrinth. I also enjoy romantic historical stories like Elizabeth. My favourite movies at the moment are probably anything with Natalie Portman, Frances McDormand,
Angelie Jolie, Johnny Depp, William H. Macy, or Steve Buscemi in them. Also I adored the video I had from Tommy of the west end version of 'Cats'.

Music: I have a wide range of musical taste. I enjoy all the old 40's 50's 60's and 70's music. Have been a huge fan of the Beatles since I first heard "Love Love Me Do" in the 1960's. I like some of Elvis' slow pieces but can not stand to watch videos of him in concert...just can not watch him. Roy Orbison and Buddy Holly were played on my old stereo a lot along with Joni Mitchell, Melanie, Grateful Dead, Led Zepplin, Janis Joplin, Jimmy Hendrix, Black Sabbath and Iron Butterfly. I enjoyed a lot of the music, along with the Beatles that came over the pond during the British Invasion. However nothing beats Benny Goodman and Glen Miller for swing, the Duke, Billy, and Ella for Jazz, or Leadbelly and Muddy Waters for the Blues. I thrive on Reba, Dolly, Clint Black, Charlie Pride, and Toby Keith; and others too numerous to mention. Two bands of recent years I absolutely adore are Nickelback (Canadian like me) and Hinder. I really miss James Brown, Ray Charles and Lou Rawls; really liked to listen to them. A fairly new young lady on the scene is the extremely talented Regina Spektor. Hey I told you I liked a wide range of music. I can even get lost in my mind listening to Charlotte Church.
If it has nice to great lyrics and the music makes me want to dance or cry or sing along or otherwise express my own joy, it is my kind of music.

I am feeling quite queasy!
Books: I enjoy Stephen King, Anne Rice, Dean Koontz, Charles Dickens, Patricia Cornwall, Vicki Stiefel, Margaret Atwood, Tolstoy, and anything by Agatha Christie. I love historical novels, scifi, mystery, horror and pschological or sociological texts. If I am going to see a movie I try to read the book first or immediately after it. It adds to either; but very seldom both.
Note:
I no longer have any of my music or movies, including my old collectible records, left thanks to the unethical, uncaring, behaviour of those people I knew who are still living on Long Island, New York. See my updates on the left side of this page.
One of My Favourite Pictures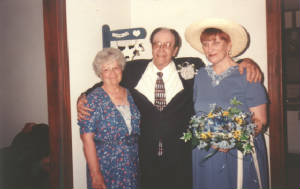 Evelyn, Tom and Ruth
Admiring the beauty of the Master.
"Can I get Canadian Citizenship too? After all Mom's a Cannuck!"
My lovely kitty Jake will always be remembered just like the other cats on my pet memorial page