In the 60's I quit regular high school in the neighbouring town of Markham, Ontario. I left my hometown of Unionville, Ontario and started a rather strange odessey. I worked at all sorts of jobs in the subculture of the Hippie Movement. I met a number of terrific people that were in the arts or working at getting into an artistic career of one kind or another. I worked in Coffee Clubs in the Yorkville Village district of Toronto, Ontario, Canada.
I acquired a great many aquaintances and a few friendships in the mileu. I enjoyed all the things that were there to explore. I went to all the concerts I could attend including Woodstock. To this day some of my favourite singers include Buffy Ste. Marie, Joan Baez, Bob Dylan, and Richie Havens. I attended a large
commercial art school for 8 months in 1964. After that experience at the age of 18 I started working at the coffee clubs like the Bod Pod, the Mousetrap and the Riverboat. I always worked at least two jobs; one of my regular jobs was at the Jazz Club on Dupont Avenue. I enjoyed my alternate lifestyle.
l remember one of the interesting things my little group of friends and I were involved in. Quite a few of us took part in a rather large demostration. It was when Joan Baez was at city hall in Toronto. She was there to help us show more solidarity against the war the USA was having with the country of Vietnam in South East Asia.
Spirituality: All that I know is that I try to pray and meditate every morning and at night. I ask the God of my understanding for one more day to live happy, joyous and free.
Dogpound
Say it isn't so!
UpDate January 2012
I moved from my home in Canada in 1998. It was sufficiently clear that after twenty-two years of marriage neither one of us could stay on with the other and be part of their lives. We both had to cut our losses and leave. I can see now in retrospect that we had stopped being in any kind of real relationship quite a few years before this. I just kept praying for seventeen years that it would magically become a fabulous union. The saving grace is that I have two lovely daughters and a handsome son from my second and third marriages. They are all grown, on their own now, and all live in different places around the world. The four of us have all had our share of challenges but I will only write about my own.
I travelled to Oklahoma City where I married Thomas W. Shultz in April of 1998. We had a wonderful life together for three years when, unfortunately, my Darling was stricken by pancreatic cancer in the spring of 2001. I stayed in our home for nine more years.
I went to live with a friend on Long Island, New York. Dennis L. Baer and I had known each other for over six years before we got together in July of 2010. We were together as roomates only.
Denny died suddenly in May of 2011 of renal and prostrate failure.
I could not afford to stay on Long Island on my own so I decided to move back to Canada in May of 2010. I live here in my own country now. Karma will take care of those that did me wrong in that move, they know who they are, and that is the end of it. It is now November the 20th of 2017 and I have settled in quite nicely into life here in large town Ontario. The southern part has been ruined by developers in my absence prior to 2010 and I find it a shame to see a great deal of the Greenbelt has been overdeveloped. But most things including age do change eventually. I will be 70 on December 9, 2017.
Kitcat's Favourite Things
Movies: My taste is rather eclectic. I have loved everything from Easy Rider and The Rocky Horror Picture Show, to The Excorsist and ET. I love mysteries, horror, and Sci-fi. But I love children's and adult fantasy such as the Ring Trilogy, the Harry Potter series of movies and The Labyrinth. I also enjoy romantic historical stories like Elizabeth. My favourite movies at the moment are probably anything with Natalie Portman, Frances McDormand,
Angelie Jolie, Johnny Depp, William H. Macy, or Steve Buscemi in them. Also I adored the video I had from Tommy of the west end version of 'Cats'.

Music: I have a wide range of musical taste. I enjoy all the old 40's 50's 60's and 70's music. Have been a huge fan of the Beatles since I first heard "Love Love Me Do" in the 1960's. I like some of Elvis' slow pieces but can not stand to watch videos of him in concert...just can not watch him. Roy Orbison and Buddy Holly were played on my old stereo a lot along with Joni Mitchell, Melanie, Grateful Dead, Led Zepplin, Janis Joplin, Jimmy Hendrix, Black Sabbath and Iron Butterfly. I enjoyed a lot of the music, along with the Beatles that came over the pond during the British Invasion. However nothing beats Benny Goodman and Glen Miller for swing, the Duke, Billy, and Ella for Jazz, or Leadbelly and Muddy Waters for the Blues. I thrive on Reba, Dolly, Clint Black, Charlie Pride, and Toby Keith; and others too numerous to mention. Two bands of recent years I absolutely adore are Nickelback (Canadian like me) and Hinder. I really miss James Brown, Ray Charles and Lou Rawls; really liked to listen to them. A fairly new young lady on the scene is the extremely talented Regina Spektor. Hey I told you I liked a wide range of music. I can even get lost in my mind listening to Charlotte Church.
If it has nice to great lyrics and the music makes me want to dance or cry or sing along or otherwise express my own joy, it is my kind of music.

I am feeling quite queasy!
Books: I enjoy Stephen King, Anne Rice, Dean Koontz, Charles Dickens, Patricia Cornwall, Vicki Stiefel, Margaret Atwood, Tolstoy, and anything by Agatha Christie. I love historical novels, scifi, mystery, horror and pschological or sociological texts. If I am going to see a movie I try to read the book first or immediately after it. It adds to either; but very seldom both.
Note:
I no longer have any of my music or movies, including my old collectible records, left thanks to the unethical, uncaring, behaviour of those people I knew who are still living on Long Island, New York. See my updates on the left side of this page.
One of My Favourite Pictures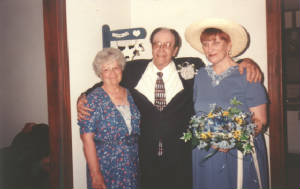 Evelyn, Tom and Ruth
Admiring the beauty of the Master.
"Can I get Canadian Citizenship too? After all Mom's a Cannuck!" An Unfortunate Update: My little Dylan passed away on Friday 10, 2017.
My lovely kitty Jake will always be remembered just like the other cats on my pet memorial page